Accelerate your students referencing understanding
RefQuest is a multi-award-winning learning experience developed for the express purpose of levelling up students referencing knowledge in academic writing.
Play RefQuest
Award Winning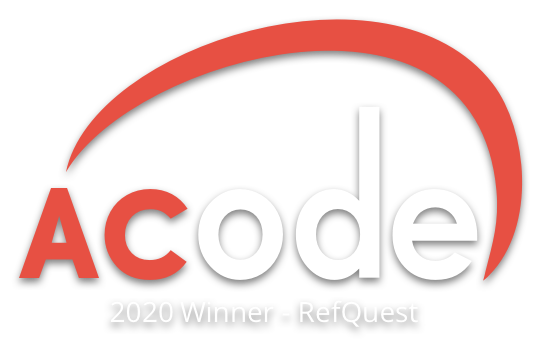 The Australasian Council on Open, Distance and e-Learning (ACODE) is the peak Australasian organisation for universities engaged or interested in technology enhanced learning and teaching.
The ACODE TEL Showcase provides the opportunity for ACODE Member nominees to articulate and disseminate in-practice innovation within the Australasian Higher Education Sector.
RefQuest was announced as the overall winner of the ACODE 2020 Innovation in TEL Award.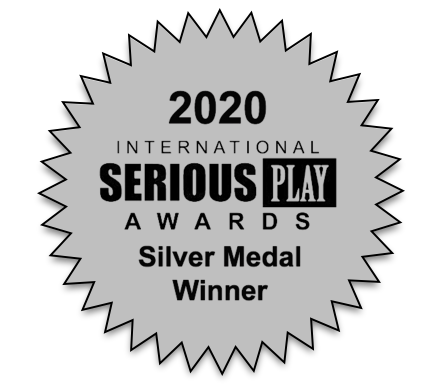 The International Serious Play Awards honour outstanding commercial and student digital learning experiences used for education or training from around the globe.
The International Serious Play Conference is the leading forum to keep abreast of the rapid changes and evolution of serious games, the industry that is shaping the future of training and education.
RefQuest was awarded the prestigious silver award for excellence in Higher Education 2020.
It's Active Learning
Students perform better when they actively engage with the information they are learning. Active learning promotes better recall, and understanding. It encourages the brain to process and store new information by activating cognitive and sensory networks and is the cornerstone of other progressive pedagogy, including problem-based learning and collaborative learning.
RefQuest provides the player an active learning experience by:
Encouraging the player to learn by doing.
Providing the player with customised, responsive and rapid feedback.
Encouraging thoughtful planning and decision making.
Demanding the player learns in order to succeed, because if they don't learn they can't progress to the next level.
Mapping success and failure directly to the player's actions and these are represented in the game.
Giving the player positive feedback and rewards for progression.
Offering consequences for failure combined with constructive feedback and correction. These are not abstract or hypothetical; they are represented in the game.
Investing their ego and self-image into a character and experience players can identify with.
Creating an engaging narrative and fun experience that provides the player a scenario that generates emotional responses and enjoyment.
Supported Referencing Styles
Harvard WesternSydU
AGLC
APA
Chicago
Vancouver
MLA
Build on Pedagogy
The structure of games should mirror good pedagogy, offering progressive problem solving and scaffolded learning.
RefQuest embodies all phases of Gagne's Nine Events of Instruction (events that activate processes needed for effective learning). These events are: gain attention, inform learner of objectives, stimulate recall of prior learning, present stimulus material, provide learner guidance, elicit performance, provide feedback, assess performance, and enhance retention and transfer.
RefQuest is also built on intrinsic motivational concepts and models of self-regulated learning with just the right amount of challenge, support, and feedback, progressively rewarding mastery with new challenges. This experience parallels other known optimal states of happiness, or flow (as determined by Csikszentmihalyi).
Loved by academics and students
The greatest innovation in teaching referencing of our time. Great art style, fantastic sound design, brilliant gameplay. 10/10
Gamification done well - this is how you make referencing engaging!
Not to flex but ... I'm Basement level AGLC and I'm coming for those other styles ASAP. Play the deliciously retro RefQuest
Thank you for this game! I found it engaging and felt good that I achieved each level for APA referencing. It really helps you to think on your toes and remember the structure of the referencing style.
RefQuest will test your students' referencing knowledge with a variety of randomised puzzle types and reference examples. With a sword and a handful of lives, students will need to defeat a series of increasingly difficult monsters that will test their understanding of referencing.
With each level the number of monsters and complexity of the references increases. Students will need to keep an eye on the timer and remember to use the spellbook to assist you in your quest to save referencing!
Some puzzles you will encounter include:
Card Shuffle - defeat the monster by reshuffling the cards into the correct order,
Multiple Choice - defeat the monster by choosing the correct answer,
Boss Battle - defeat the boss by selecting the correct blocks to solve the reference sequence
It's easy to get your students started
Choose an option below
RefQuest is already available in the vUWS Dashboard or within the Getting Started Section of Cortex. Simply point your students to either of those links and they will be on their way.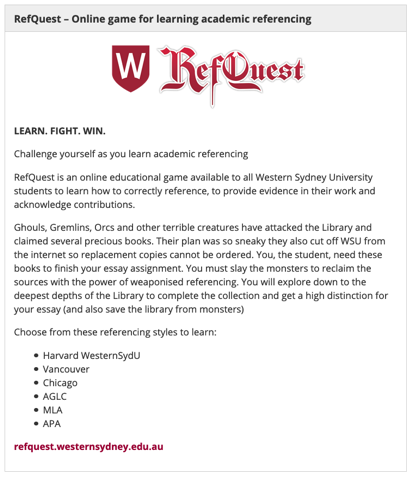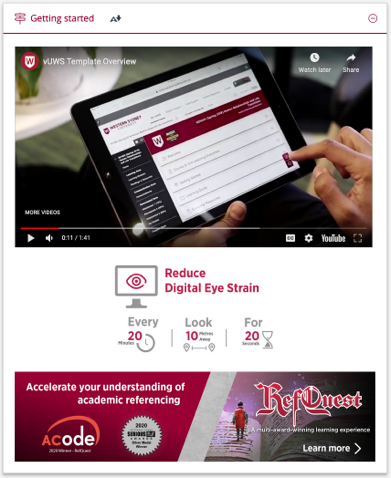 About
A collaboration between The Library and Learning Futures
RefQuest is an online educational game available to all Western Sydney University (WSU) students to learn how to correctly reference, to provide evidence in their work and acknowledge contributions.
The game is built on robust and proven active learning and pedagogical principles that scaffold and guide students through a fun and engaging experience. RefQuest teaches players the patterns of referencing and challenges their knowledge with multiple activities which have increasing difficulty.
RefQuest was co-developed by Learning Futures and the Library at Western Sydney University, and is based on The Great Referencing Game that was developed by WSU Library staff as a classroom activity, which was adapted from Chasing Citations by Ryan L Sittler in McDevitt, TR, 2011, Let the Games Begin!
Contact
Western Sydney University Library
The Library is committed to enabling student literacies, by providing a combination of learning activities, learning resources and academic skills services.
Students: to access more online referencing resources, please visit the Referencing and Citation page on the Library website.
Academic Staff: please contact your School Librarian to discuss the embedding of information literacy (including academic integrity) and academic literacy resources into your Course or Unit.
Learning Futures
Student engagement is widely understood to be vital to student success, and learning is improved when students are curious, inspired and invested in their learning. Learning Futures is committed to helping engage students by creating technology-enabled activities and conditions that are most likely to generate higher quality learning.
To talk to us about how we can leverage this technology to help your school's academic needs, please email us at: learningfutures@westernsydney.edu.au
For any feedback regarding RefQuest, please email us as at refquest@westernsydney.edu.au
Attribution and Licencing
RefQuest was co-developed by Learning Futures and the Library at Western Sydney University. Inspired by the Great Referencing Game (CC BY-NC-SA 4.0) which was adapted from Sittler, R.L. (2011). Chasing Citations. In T.McDevitt (Ed.), Let the games begin! Engaging students with field-tested interactive information literacy instruction (pp.116-118). New York, NY.
RefQuest © Copyright 2020 Western Sydney University
Use of the RefQuest game is permitted under CC BY- NC-ND.
This work is licensed under a Creative Commons Attribution-NonCommercial-NoDerivatives 4.0 International License.